4X NetSuite Spotlight Alliance Partner Winners!
We're thrilled to announce that Oracle NetSuite has recognized Beyond Cloud Consulting as a distinguished recipient of the Summer 2023 Alliance Partner Spotlight Award in the four different product categories!
The NetSuite Alliance Partner Spotlight Awards celebrate top-tier partners who have demonstrated exceptional commitment and success in their NetSuite implementations – and we're honored to have our customizations, IP development, and strong implementation track record recognized.

We've reached for the skies in Aerospace! ✈️

Our team's implemented the "code" for success in AI/Robotics! 🤖

We're top of our graduating class in Education! 🎓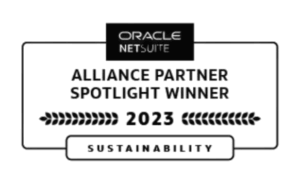 We're going beyond to support a green future in Sustainability! 🌿
As part of the NetSuite Alliance Partner program, we offer a wide range of business consulting services, integration solutions, and implementation expertise. Our goal is to empower customers to unlock the full potential of their NetSuite software.
We take pride in our deep and unique understanding of NetSuite solutions, ensuring our clients receive the highest level of service and value.